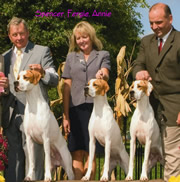 "SPENCER" is the # 1 Pointer for 2009 and finished ranked #7 Sporting Dogs in Canada!
He made it the the 2nd final cut for BOB at the 2009 American Pointer Nationals under Paula Nykiel and
also won the Stud Dog class. Spencer is a proven sire with a number of get finished or pointed in Canada,
the US and South America. He is available at stud.
Contact Julie Pullan of Brackenmoor Pointers for more information.